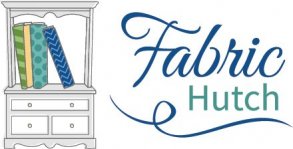 FRIDAY NEWS!
It's Friday!
Is it the end of the week, beginning of the weekend or just another day for you?

For us at the Fabric Hutch it is the day we start our new weekly newsletter. I am not sure what to call it yet. There are so many options, a lot of which have already been used. Do you have any suggestions?

For now, I want to let you know about some new things here at the Fabric Hutch. If you have been here before, you will notice a new look and format to our website. We switched hosting companies so we had to change our template and design. There are still some things that need to be completed, pictures to fill in and information to add. It will get there eventually as we learn the new system.

We are also in the middle of the April Shop Hop. There are great prizes available for participating. You can find the April bunny on the Frivols page. If you haven't heard, a Frivol is what you get when you take Moda's latest fabric collections, design original quilts using a new pre-cut, and then package the kits with some little extra treasures in a series of limited and collectible tins!

Since Moda and some of their Designers are calling today Frivolous Friday, we want to let you know that the newest Frivol, # 9, will be available for purchase here tomorrow. It features the new fabric collection by Lella Boutique called "Little Miss Sunshine".




A great spring mix of fabrics. In fact, this is the collection I am using for The Splendid Sampler sew-along with Jane Davidson and Pat Sloan. If you don't know about The Splendid Sampler, check it out at www.thesplendidsampler.com It is a great way to improve or learn new techniques for your quilting projects.

I will be back next Friday with more news and hopefully more new fabrics for our store. If you have any suggestions or requests, you can email me at betsy@fabrichutch.com.

Remember to always Sew in Joy!

Betsy